Lek. Grażyna Walkowicz
Pani doktor to doświadczony i wnikliwy lekarz, do którego często zwracają się pacjenci szukający pomocy w przypadku powikłań lub źle wykonanych zabiegów – zarówno w nagłych przypadkach, jak i leczeniu wymagającym nawet kilkuletniej terapii. Naturalne metamorfozy, indywidualne programy zabiegowe i wysoki poziom opieki, to wizytówka dr Walkowicz.
Uzyskała Dyplom lekarza medycyny estetycznej, jest właścicielką centrum Med-beauty. Wykonuje zabiegi z zakresu medycyny estetycznej, w tym z użyciem nici NewU Thread Series, będąc jednocześnie Instruktorem naszych szkoleń dla lekarzy. Pani doktor wykłada również na SWSM na kierunku medycyna estetyczna dla lekarzy i jest Członkiem Polskiego Towarzystwa Medycyny estetycznej PTL.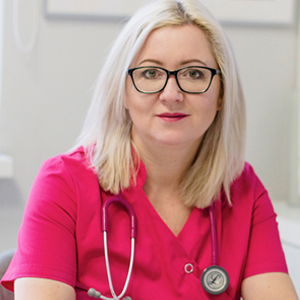 Lek. Grażyna Walkowicz
MEDYCYNA ESTETYCZNA GINEKOLOGIA ESTETYCZNA BLEFAROPLASTYKA DNI Z LOKTALEM DNI Z CAPENERGY